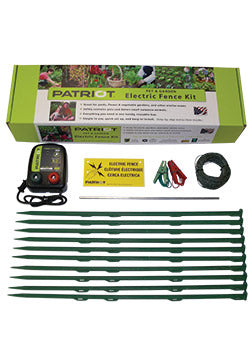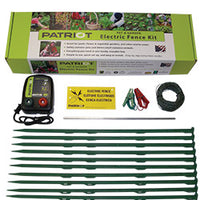 Patriot Pet and Garden Electric Fence Kit with PE2 110V Energizer
Next day pickup available at FenceFast Ltd.
Great for yards, flower and vegetable gardens, and other similar areas. Safely contains pets and deters small nuisance animals such as racoons, cats and dogs out of your garden area or fish ponds. Everything you need in one handy reusable box just add your energizer of choice. Simple to use, quick set up, and easy to install. This kit comes with a Patriot PE2 110V energizer 
<ul>
<li>10 x 28.5" posts with 4 preset clips on each post for quick installation, </li>
<li>100ft of green poliwire, </li>
<li>ground rod </li>
<li>fence connectors, </li>
<li>step by step instructions </li>
<li>
sturdy box to store kit when not in use</li>
<li>
<strong>Includes Patriot PE2 110V energizer </strong> </li>
</ul>
Need Help With Your Project?
At FenceFast we have over a decade of highly specialized experience setting up fencing and animal management systems.
Let us help you plan yours!
Learn More
I really like the fence
I really like the fence BUT it would be very helpful if the wires to the energizer were longer so that you could run them a bit farther away from the garden. Also, our posts had previously been used and had dirt all over the bottoms of them.
Thank you for your review and bringing to our attention that the posts had dirt on them. We will be reaching out to contact you to discuss further or, please contact us at 1-877-38FENCE