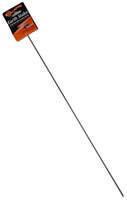 Gallagher Mini ground stake
Next day pickup available at FenceFast Ltd.
Handy galvanized steel ground stake for small portable Energizers.
<ul>
<li>Handy Ground Stake for portable Energizers</li>
<li>Galvanized steel rod for long life</li>
<li>Loop top with included galvanized bolt for good ground wire connection</li>
<li>Easy to push into ground and pull out - 2 ft (60cm) long</li>
<li>Recommended for B10 or S10 energizer only</li>
</ul>
Need Help With Your Project?
At FenceFast we have over a decade of highly specialized experience setting up fencing and animal management systems.
Let us help you plan yours!
Learn More