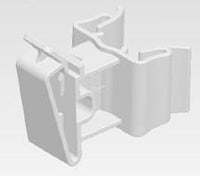 Gallagher T-Post Insulator for 1 1/2" (40mm) Horse Tape 20/Bag
Next day pickup available at FenceFast Ltd.
Fits all T-Post from from 5.5M. Pack of 20 (White)
<ul>
<li>Unique snap-on design makes it simple to install with no tools needed</li>
<li>Specifically designed for 1/2" to 1 1/2" tape</li>
<li>Also accommodates EquiFence and braid products</li>
<li>Holds tape tightly tp prevent movement and to maximize tape life</li>
<li>10-year warranty</li>
</ul>
Need Help With Your Project?
At FenceFast we have over a decade of highly specialized experience setting up fencing and animal management systems.
Let us help you plan yours!
Learn More