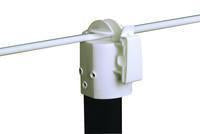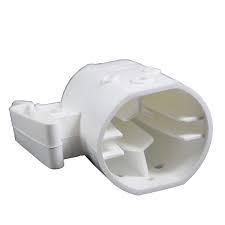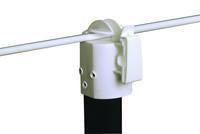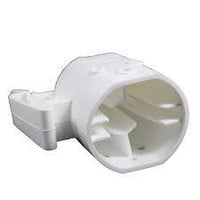 Gallagher Steel Post Topper Insulator 10/bag
Next day pickup available at FenceFast Ltd.
Safe and flexible - add a single electric wire/tape/braid to the top of existing steel posts using this protective cap.
Designed to fit over the top of a steel Y or T post and securely attach electric wire, tape of braid
Fits T posts 1- 7/32" minimum to 1-17/32" maximum across face. 
Made from UV resistant plastic for long life and strength
Flexible wire attachment options - strong front latch to firmly grip 40mm or 12.5mm tape. Front latch and insulator top can also take 8mm Equine Fence wire and braid Superior insulation as large plastic body protects against arcing
Bag 0f 10
Warranty 10 years
Need Help With Your Project?
At FenceFast we have over a decade of highly specialized experience setting up fencing and animal management systems.
Let us help you plan yours!
Learn More