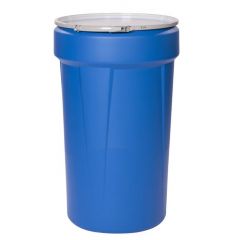 Nestable Plastic 55 Gallon Drum with Lid
Next day pickup available at FenceFast Ltd.
Protect fertilizer, ice melt and farm feed from moisture during the off-season.
<ul>
<li>Drums conveniently nest when not in use for easy transport and storage.</li>
<li>Corrosion, UV and chemical-resistant polyethylene.</li>
<li>Lid with steel lever lock included.</li>
<li>15 gal. stores up to 143lbs.; 55 gal., 550lbs. Two openings to pour and vent.</li>
<li>FDA compliant.</li>
<li>use to support portable electric fence netting at directional changes fill with ballast as needed. electric fence posts can be secured to the barrels using nylon straps</li>
<li>good for water tight storage.</li>
</ul>
Need Help With Your Project?
At FenceFast we have over a decade of highly specialized experience setting up fencing and animal management systems.
Let us help you plan yours!
Learn More